SnapCell | Personalized For the Best Dealership Experience
Our vision at Kalispell Volkswagen is "To be so effective that we are able to be helpful to others". We strive to do this by being transparent in everything we do. By integrating SnapCell into our communication, our customers can engage with our employees firsthand through personalized videos.
SnapCell
SnapCell is an interactive video tool that offers personalized communication. These features include:
Live Video Chat
Live Messaging
360 Walkarounds
Inventory Integration
Personal Connection
Personalized Video From a Real Person
By using this in both our Sales and Service Departments we are able to give our customers the best experience possible even if they are not physically at our dealership.
Service
We understand how valuable your time is. It isn't possible for everyone to wait at a dealership for their service to be completed. By using SnapCell you can drop your vehicle off and be confident only the approved work you want will be completed. During our inspection, our technicians can now send you a personalized video showing the recommended work on your vehicle. You then have the option to approve any work you want to be completed that day or wait to have it done later. The video below highlights some recommended maintenance offered by our technicians through SnapCell.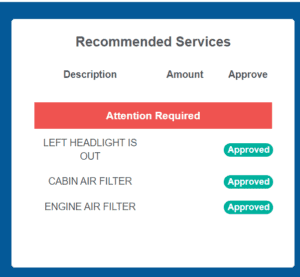 Once you watch the video you have the option to choose what maintenance you want to be completed.
Simply switch the toggle to approve from the list given next to the video.
Once our Technicians receive the work you have approved back they are then able to complete your service.
If you have any question about the recommended service or video you have the option to message our Service Department directly.
We want to take all the guess work out so you can trust your vehicle is in good hands.
Getting the repairs you want done right the first time.
Sales
By using SnapCell in our Sales Department, you can get a full walkaround video of any vehicle on our lot you are interested in. With the live messaging feature you can ask specific questions directly with your Product Specialist. You are also able to get highlights of the specific features you want to see. This is great if you are unable to make it into our dealership right away or live outside the Kalispell area. Being transparent from the start is what sets us apart from our competition. We want our customers to know as much about the vehicle as we do.